Welcome to Blutmunth.net!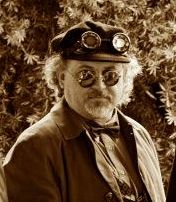 Allow me to introduce myself. My name is Geoff G Turner, and this is my personal web site which is dedicated my various creative (and not so creative) pursuits. I currently reside on the New South Wales Central Coast in Australia, a region which has a negative reputation for various reasons, but does have some fantastic scenery and wildlife if you know where to look.
I've been living on the Central Coast for over 20 years now, though I was a born and raised in the country, having spent nearly half of my life in Tamworth, the Country Music capital of Australia. I've never been a 9 to 5 sort of person. I've found that out the hard way through trial and error in a variety of jobs such as front door staff of a busy licensed club, a switchboard operator/casualty clerk in a hospital, various clerical positions, a website tester, a glorified paperboy for a local newspaper, mowing lawns, cricket umpire and even spent time in the broadcasters chair at a radio station. I have a Bachelor of Communications degree, with a major in Information Management, which I finished at the University of Technology in Sydney in 2008.
I have been diagnosed with a number of psychological disorders, most of them anxiety related, as well as being clinically depressed, though I'm stable for the most part. In 2012 I was diagnosed by a clinical psychologist as to demonstrating several traits related to aspergers, which really does explain a lot about why I am the way I am. I currently attend a local mental health support group, one of many supported by One Door Mental Health (formerly the Schizophrenia Fellowship of NSW).
I really enjoy writing, and currently have six e-books for sale on Amazon and Drive Through Fiction. They are the Feudball fantasy football trilogy, Feudal Football,Super League and On the Road, as well as three volumes of poetry and song lyrics - You don't need my love, Suppose I'll just sing the blues and Cool evening breeze. Other pieces have been published in competition anthologies released by VoicesNet.com and by the Schizophrenic Fellowship of NSW (now One Door Mental Health), with my 2015 entry, Âme perdue, winning the consumer poetry section that year. One of my lyrical compositions, Two Contenders for your Crown, finished in the top ten of the lyrics section of the 2000 Australian Songwriters Association competition. Both of these pieces feature in the first volume of compositions.
I've also had some success since taking up photography (again) in 2011. Weather and old sporting injuries permitting, I'll wander around somewhere and see what I can find. I started entering competitions in 2012 and picked up commendations in 2015, 2016 & 2019 at the Gosford Regional Show and other various competitions. I have regularly displayed pieces at the annual Art Works! Mental Health Exhibition at the Gosford Regional Gallery, and did have items displayed at a local gallery, Casa del Sol, which was located in Koolewong (near Woy Woy) but has unfortunately closed down.
Sport has played a big part of my life, either as a spectator of a player. As an adolescent, I played soccer, union, cricket (indoor and outdoor) and league up until I finished high school, as well as ten-pin bowling and squash. Before moving from Tamworth I was heavily involved in a variety of indoor sports including soccer, league and netball. I didn't return to the pitch until 2011, and played eight seasons for North Rocks, mostly in the Over 35's competition. My team made two grand finals during that time (with me as goalkeeper on both occasions), winning the 2012 decider 3-2, but losing the 2014 match by a solitary goal. My final game was in June 2019. As a spectator, I've been following the Central Coast Mariners since their first competitive match in 2005, and have been a Canberra Raiders supporter since their inception in the national rugby league competition.
I'm a keen gamer, though these days it's more online than table-top as a result of the pandemic. My favourite game of all time is Blood Bowl (for the uninitiated, try this link), which I've been playing for over 30 years. I'm a regular at official tournaments in NSW, play in the BMBBL (Blue Mountains Blood Bowl League) competition, and in the April 2018 I played my 1000th career game in all formats. In the past, I have run several competitions and tournaments (both official and unofficial), and on the BB circuit, I'm known as "Vimes".
I also maintain two long-running blogs, The Dwarven One, which is about anything that takes my fancy, and The Dwarven One's Blood Bowl and Role-Playing Blog, which is mainly about the board game Blood Bowl that I've been playing for thirty years. I do drop in a few comments about other table-top gaming that I participate in, including RPG sessions and PC games that I play.
For more current news about gaming events, competitions, and how my various projects are coming along, check the News page, or the related blog. Cheers!
Geoff G Turner
5 April, 2021
PLEASE NOTE: VARIOUS PAGES ON THIS SITE STILL HAVEN'T BEEN COMPLETED.

(Just one of the many things on my "to do" list.)