Sport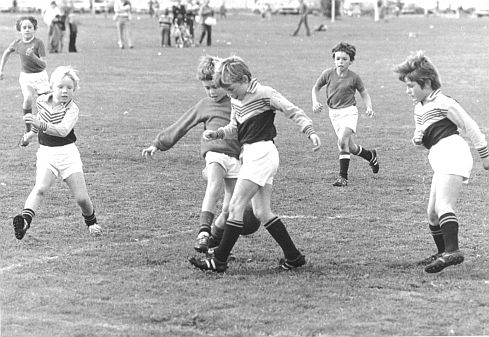 Sport has played a large part of my life, either with me being active on the field, or sitting in the stands to watch a fixture. For a short period, I even took up the thankless job of umpiring and scoring cricket matches.
The one sport that I have had the most interest in, is soccer. As a junior, I played several seasons with Tamview, a local club in Tamworth. Many Saturdays during autumn and winter were filled with double fixtures for my brother and I, with our parent's attention being split on occasions at the city's fields in the industrial part of town. Occasionally there was a trip to regional towns such as Gunnedah and Walcha for soccer carnivals.
I managed to play in every position on the field, though I usually played either up front as a centre forward or winger, or right at the back as goalkeeper. I was keen, but not overly talented, except for when I was in goals. I was a very reluctant keeper, but for some reason the position agreed with me. When I was recruited in 2011 to join North Rocks FC, I spent most of the season in goals, before being retrained as a defender in 2012. I was, however, first choice to go in goals when our regular keeper was unavailable, and wound up in goals for two grand finals in 2012 and 2014. Winning the season decider as a keeper in 2012 is the apex of my sporting years. I was keeper again in a 2014 decider, but the match ended in a 0-1 loss. I continued to play until June 1 in 2019, but having sustained a fractured ankle in 2017, spending 2018 off the pitch due to surgery on my right calf muscle, then a sprained knee and a calf tear in this season, I decided that enough was enough and called it quits.
Indoor soccer though was a different story. In April 1993, I formed an indoor soccer club made up of members of the wargames club I was involved with at the time, their wives/girlfriends, the occasional relative and a few miscellaneous recruits who joined us from time to time. We named the club Damaged Inc, and one day I'll get around to dedicating a page to it as well. At its height, I had thirty players to manage for one (or two) of the three teams that I had running, a mens side, and two mixed teams, Damage Mixed and Charlie Co. After finishing runners-up on three occasions, we bagged our only title, winning the B-Grade mens final 2-1 in July 1994.
Interest was dropping though. By the end of the year, Charlie Co had folded, then the mens. Damage Mixed soldiered on for while longer, until I was the only wargames club member still playing in the team. The last game was played in July 1995. Fittingly, it was a final, but the team lost on penalties. I would continue to play for various teams after that, but it was never the same. I broke my left wrist whilst in goals later that year, but stopped playing early in 1996. My last game of indoor was on the Central Coast in 1999. I reckon I played around 170 matches and scored 75 goals.
Soccer wasn't the only sport I played indoors competively. I played a couple of season of basketball whilst in primary school (my mother was the team's coach), squash, cricket (even umpired and scored matches as well), touch football, netball and tenpin bowling. In 1983 I was one half of a successful pair that won the inter-school tenpin championship that year. In 1996, the mixed team that I was part of won the B-Grade netball final, as a wing defender.
And soccer wasn't the only team sport I played outdoor either. In 1984 and 1985 I played rugby union for Pirates Juniors (later Peel Valley) and in 1986 and 1987 I was part of Peel High's open rugby league team. Most of the union games were played in various places in the region, with visits to Armidale, Walcha, Barrabra, Quirindi and Narrabri. I mostly played in the forwards, either as a lock, second row or breakaway and even scored three tries. In league, most of my appearances were on the wing, though I did fill in at lock or second row when needed and most of my game time was usually during the annual junior rugby league carnivals.
I did play cricket as well, but only for two seasons. The first was the Under 16s in 1985, and the second was for City United RSL's third grade side in 1989. I did coach my brother's school side in 1987 (if it could be called that – lol) and wound up umpiring then playing a few matches towards the end of the season. It was one of the rare occasions where both of us was playing in the same side. My grade appearance was nothing to get excited about. I only got to the crease three times at number eleven and spent a lot of time either as the twelfth man, the scorer or filling in as square leg umpire. I did take a couple of catches though that I was particularly proud of – both in close at bat pad. The only time I manage to get a bowl was during a few junior holiday cricket matches.
I discovered the hard way that I was a far better spectator than player. I still have an interest in cricket, but the rise of the 20/20 version has seen my interest in it wane considerably. I religiously followed rugby league for over twenty years, though these days I'm not so enthusiastic about it. I will go and see the occasional match, but for the most part I'll listen to it on the radio. When I started high school in 1982, I became a Canberra Raiders supporter, and have remained one ever since. Obviously I am more enthusiastic about soccer these days, with the Central Coast Mariners (and the A-League) reigniting my interest in playing again after all these years. I was at their first ever competitive match in 2005, have been a season ticket holder for several seasons, and have watched the boys in yellow and blue play over 150 times either at the stadium or away from home, including their only grand final victory (so far) in April 2013.
2 April, 2018